SafePak systems are designed to fit any model of ATM. A metal frame is permanently mounted inside the ATM, directly under the depositor mechanism. During the deposit period all deposits fall directly into the SafePak bag. When the bank employee or courier arrives to retrieve the deposits, a special unbreakable lid (stored in the front pocket of the bag) is inserted into a narrow slot at the top of the bag. The lid automatically locks into place and then the bag is released from the frame with all deposits safely locked inside...ready for transfer to the processing site. An empty bag replaces the full bag. The entire procedure takes less than 30 seconds

Deposits fall directly into the secure collection bag inside the safe
100% Security With Tamper-Check TM
We are proud that there has never been a deposit stolen from a SafePak bag ...ever. Our electronic Tamper-Check tamper-monitoring device, standard equipment on every SafePak collection bag, is the heart of SafePak system security. If anyone tries to remove the bag from the ATM without the lid being locked in place, or if anyone tries to remove the lid during transit, the electronic Tamper-Check device will start flashing a bright red light on the front of the bag to alert processing personnel of the unauthorized entry. Also each SafePak frame inside the ATM is equipped with special electronic sensors to detect if the SafePak collection bag is in or out. These sensors can be wired to the existing ATM sensor circuitry to provide the highest level of security during the entire retrieval procedure.
Dramatic Savings Of Time, Money and Personnel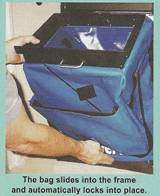 The bag slides into the frame and automatically locks into place
Banks, armoured carriers and service personnel all benefit from the many advantages of SafePak systems. Deposit envelope counting and/or manifesting is not required, so on-site time is minimized. There is never a lost or missing deposit since every deposit is secured inside the SafePak bag from the moment it is made until it arrives at the processing site. When the SafePak Cashbar (see Cashbar product sheet) is also installed on the ATM, there is no unauthorized access ~o the cash cassettes. Deposits can be retrieved and all repairs can be done under single-custody every day of the week (and weekends). Only cash replenishment, one day a week, needs to be done under double-custody. Fewer people will be doing the tasks quicker; and with more security, and that translates into savings for everyone.
About SafePak Corporation

The bag cannot be removed until the lid automatically locks onto the bag.
In 1995 SafePak Corporation introduced the first single-custody deposit retrieval system for night depositories and ATMs. This innovative technology enabled banks and armoured carriers worldwide to achieve dramatic reductions in transportations costs and FTE expense. Most importantly, the efficiency and security of SafePak systems helped many banks implement centralized processing and in-store banking.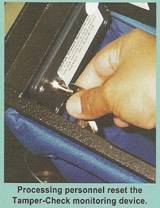 Processing personnel reset the Tamper-Check monitoring device.
We are proud of our growing success...the result of listening to our customers. We truly understand your need to increase efficiency, improve customer service, stay within budget, and provide flexibility for the future. We enjoy bringing your ideas to life and look forward to a bright future working together.